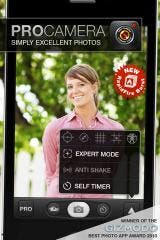 Daemgen.net announces ProCamera 3.1 update with features of ''QuickFlick album access', RapidFire Mode', 'bulk social network sharing', and 'Photo-based Navigation'.
Mannheim, July, 2011 – ProCamera for iPhone was the first dedicated iPhone camera app on the App Store. It has evolved from a smart stock app replacement to the premier all-in-one photo & video app.
With David Pogue's praise in the New York Times: "The High End crowd swears by it" and winning the "Gizmodo Best iOS Photo App Award 2010" among its many other awards, ProCamera is known as defining the state-of-the-art in iPhone photography development.