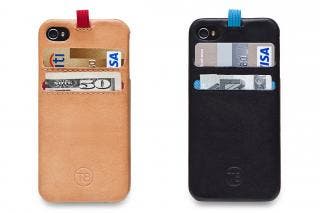 T8 STORM iPhone 5S wallet case eliminates the need for a wallet.
HONG KONG, September 11, 2013 – Buyers of the new iPhone 5S disappointed with the lack of an NFC electronic wallet can still pack light with the STORM iPhone wallet case, premium handcrafted iPhone accessories maker T8 www.t8cases.com announced today.
"NFC electronic wallet capability was one of the most anticipated features leading up to Apple's iPhone 5S announcement," said Pia Frees Taylor, Director of T8.
"While many will be disappointed NFC was omitted from the iPhone 5S, they can still eliminate the need for a wallet with the T8 STORM wallet case that has two slots for essential credit cards, ID or cash.