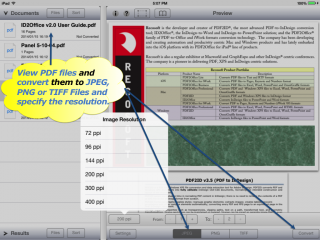 Osaka, Japan, February 5, 2014 - Recosoft Corporation the developers of PDF2Office®, the pdf conversion product for OmniGraffle, Office and iWork; pioneers of the PDF-to-InDesign Adobe plug-in, PDF2ID®; and creators of the InDesign-to-PowerPoint and InDesign-to-Word technology, ID2Office® has shipped PDF to JPEG converters for the iPhone and iPad.
PDF to JPEG for the iPhone and iPad are based on the popular Mac PDF2Office technology, converting PDFs to JPEG, PNG and TIFF formats. Each page in the PDF is converted to separate JPEG, PNG or TIFF images.
PDF to JPEG for iPhone and PDF to JPEG for iPad also include the ability to specify the resolution, compression and the range of pages to convert in a unified PDF viewing and conversion interface.