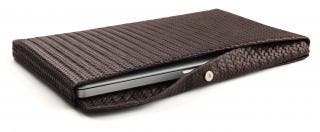 Lapàporter's vision is to fill an empty space in the market of accessories for electronic equipment. Sleeves and cases that do not only protect your laptop, phone and iPad, but also style them, personalize them and characterize them.
Having realised that most cases for electronic devices missed a vital element of fabulousness and femininity, the designer Ilka Brand was inspired to create her first line of accessories for iPhones, iPods and Laptops.
In October 2010 Lapàporter has lounged the new product line of leather iPad sleeves made from fine embossed lambs leather. The collections stand
out due to elegance, feminity and the contrast of smooth and structured surfaces. An extravagant highlight is the luxury real Python leather sleeve that is available for iPhones and iPads.