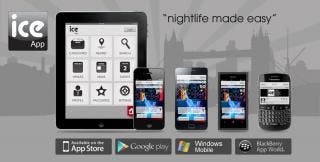 The Ice App is a global app that enables you to organise every aspect of your night out at the touch of a button.
With over 12 years' experience in the leisure and entertainment industry, The Ice App has been designed to allow you access to a vast number of exclusive nightclubs, bars, hotels, pubs and taxis all over the world! So whether you are planning a weekend getaway with your friends or a spontaneous night out after work, you can now have an endless list of nightlife options at your disposal.
As your very own personal nightlife 'concierge', you can pre-book everything from tables and guestlists at nightclubs to hotel rooms and even your ride home!
It's quick, easy to use and best of all it's FREE!