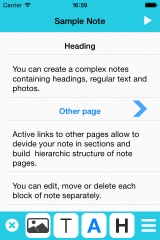 Enotekit: Send Note iPhone application proposes a new concept of mobile communication.
Enotekit allows you to create a complex multipage notes containing headings, text and photos and send to other Enotekit users or via email.
In comparison with plain text emails you can build the form of content yourself.
Your notes consist of little blocks.
You can edit, move or delete each block of note separately.
Your note also can contain active links to other page.
Active links allow to divide your note in sections and build hierarchic structure of note pages.
You can add photos from your photo library to any part of note.
You can view each photo separately with zoom and save ability.
You can store your notes as drafts just for yourself.