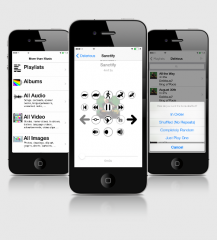 Dependency (www.dependencysoftware.com) have just released More Than Music - the media player specifically designed for language students.
It gives you more control over the playback of audio, video and images (slideshows).
You still copy your audio and video to your phone using iTunes, just like you always did. But now you can playback your audio and video slower for easier comprehension, or faster to push yourself a bit.
Or backup and replay the last 10 seconds again with a simple swipe of your thumb.
Make playlists of videos as well as audio, and play them in order or shuffled whenever you want.
Playback can be controlled by buttons or a few simple gestures so you can do it all one handed while you take notes with the other.