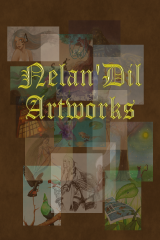 Find out Nelan'Dil's world !!!
Nelan'Dil Artworks is the first application of a project launched by Kleio Interactive that consists of an expression platform for the artists.
Nelan'Dil Artworks comes in the forms of a library of drawings collections with mini-games and an integrated bookstore to purchase new albums when they come out.
Artworks Nelan'Dil allows you to discover the works of the artist Nelan'Dil, you can meet her on :