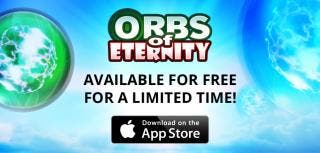 Don't miss the chance, DOWNLOAD IT NOW!
https://itunes.apple.com/us/app/orbs-of-eternity/id794672565
Take on huge battles against multiple opponents and tweak your tactics to outsmart them!
Your magic orbs draw energy from eternity, but so do the ones belonging to your opponents.
WHAT OTHERS SAY ABOUT THE GAME
PhoneDog.com:
"Orbs of Eternity is fun, addicting and smart."
"If you're someone who likes fast-paced tactical strategy games, then Orbs of Eternity needs to be on your download list."
Appszoom.com:
"It's terribly addictive once you try it out for the first time."
"a smart game which makes you think and is also quite entertaining overall."
Tapscape.com:
"surprisingly engaging and addictive."