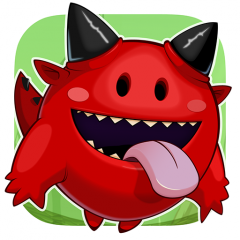 Talking Toys joins the most recent phenomenon launching Flappy Devil, game for iPhone and iPad already available on the App Store (FREE).
"Do you think you have what it takes to be the best?" Flappy Devil's introduction is obviously a declaration of intent. This addictive game tests the players reflexes. Help the little red flying devil dodging any obstacles that get in his way.
Gameplay mechanic is easy: Tap the screen to make the demon fly through the scene and go the maximum distance you can. As if this were not enough, devil will have to gather coins, which will be used to continue the game when you hit the rocks just a few meters before beating your personal score.