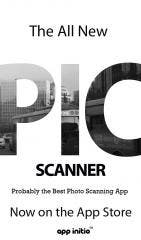 Hong Kong, Dec 29, 2013 – The iOS app Pic Scanner offers an incredibly fast and easy way to digitize old photographs: Scan three or four photos at a time with your iPhone, iPad and iPod Touch, and the app automatically and accurately detects, crops and saves them as individual photos.
You can edit photos, apply filters, add captions, and create albums with just a few taps. Scanning preserves photos for posterity, and also makes them portable and sharable. Photos scanned with Pic Scanner can be shared via Facebook, Google+, Twitter and email, and archived in iCloud or Dropbox.
Pic Scanner can also scan photos pasted in albums or mounted in frames. Conventional scanners cannot do this.