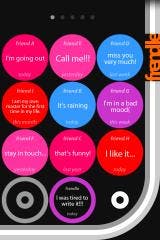 "frendle" – an app for iOS (iPhone 3,4,5).
"frendle" is a social network of a new generation, an app for setting and imaging of the user's status and following of the friends' status in real time.
A user sets his/her status:
With a help of a text message and a colorful emotional indicator – from the red (happiness) to the blue (sadness). A user can add his/her friends, who also set their statuses. By that all friends can follow each other status in real time and all that without any unnecessary information – only a short message and an emotion (color).