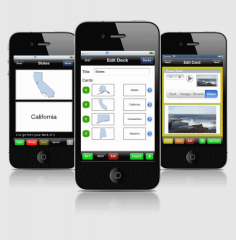 Flash cards go New School with video
Flash cards on an iOS device that have images and text are pretty cool. But now they are Old School with the release of the latest version of Dependency's (www.dependencysoftware.com) latest version of their popular iOS app "Simple Flash Card Maker".
The new version lets users add video to their flash cards.
Adding a new dimension to kids learning by letting them see a short video of an elephant rather than just a drawing.
Great for learning sign language too. Great for learning anything where a short video describes a concept cleanly and in a way which triggers memory.
If a picture says a thousand words, then video says a million.
Users can shoot the video with the device's camera while they are making the cards, import video shot previously, or even import video from anywhere using the shared iTunes folder and a mac or PC.
The videos even play during the built in memory game. Definitely New School.
Regular review is the key to memorising anything - now you can do it anywhere, anytime.
Now you can do it with video!
Dependency's developers have 30 years of professional commercial software development experience. This isn't just a hobby for us, it's what we do for a living. So our apps aren't free. But seriously, for a few dollars it's very low risk to you. Check it out in the app store.