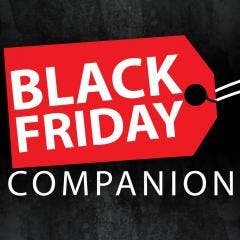 SparkNET Interactive
1241 W. Main St.
De Pere, WI 54315
FOR IMMEDIATE RELEASE
SparkNET Interactive Launches Black Friday Companion for Android devices, iPhone, iPod Touch, and iPad
Green Bay, WISCONSIN (PressExposure) November 16, 2012: SparkNET Interactive has released version 1.0 of Black Friday Companion, the mobile app designed for the high-powered, high-tech shopper. It's the ultimate shopping organizer that helps users pre-plan, route, and score incredible deals on the biggest shopping day of the year.
Description:
Imagine a shopping app that helps you pre-plan and achieve your Black Friday shopping goals instead of flashing irrelevant ads. Black Friday Companion gives you all the tools you'll need to compile the deals, create your shopping list, plan your route, track your purchases, and make the most of this once-a-year shopping extravaganza!
Skip the pad and paper this Black Friday and get organized for the shopping experience of a lifetime! Check it out - the Black Friday Companion features:
· Deal Tracker - The easy-to-use interface allows you input the Black Friday deals you want at the stores you like.
· Quick views - Product previews featuring your Black Friday deals for quick reference (stores, sales times, models, SKU numbers, sales prices, regular prices, and take a photo of the product right from the app) and it even shows you how much money you will save!
· Pre-Planned Route - Generates the most efficient route based on deals and your preference.
· Pre-Shopping To-Do List - Check off each preparation item to get prepared for the big day.
· Never Forget a Deal - Features a product checklist so you can triumphantly check off items purchased.
· Shopping Tips - Use these tips given by the most driven shoppers to getting the best deals and ultimately the most out of your Black Friday.

Black Friday Companion is SparkNET Interactive's first foray into the realm of consumer shopping apps. Prior apps include a variety of genres. Go to http://SparkNET.net/apps/for information on other SparkNET apps.
Black Friday Companion Availability
Black Friday Companion version 1.0 is available for $1.99 download on Google play for Android devices (https://play.google.com/store/apps/details?id=net.sparknet.blackfridaycompanion) and for iPhone, iPod Touch, and iPad on the App Store (https://itunes.apple.com/us/app/black-friday-companion/id575673310?mt=8).
For more information, please visit the Black Friday Companion website at http://BlackFridayCompanion.com/or the Black Friday Companion Facebook page at https://www.facebook.com/BlackFridayCompanion.
Contact Information
Marc Stevens, Product Marketing Manager, SparkNET Interactive
(920) 632-7790 x2106 -- marc [dot] stevens
sparknet [dot] net