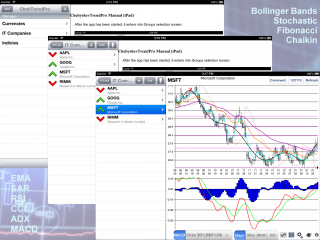 The app is free version of Chebyshev Trend Pro.
It is fully migrated from multiplatform development environment to iOS native development environment.
So the app should work in 3g networks, allow to add more symbols without database problems, use iPad hardware keyboard, etc.
iPhone & iPad looks are different now. They are aligned to Apple's recommended look & feel.
Trend & Bollinger bands configuration are individual for particular symbols.
App's database is fully redesigned too, so you should re-enter your symbols & restore in-app purchases, sorry for inconvenience.
Draw line feature isn't implemented to the moment, sorry.
Chebyshev Trend Pro is a unique new offering for users who like to keep an eye on how their stocks are doing. The application syncs with data from Yahoo Finance & Google Finance, so any stock listed there is accessible for viewing trends. Intraday Google Finance data feeds are used also.
One of the most exciting aspects of this new program is its absence of lag when compared with moving average trends. The app features a modified Gaussian least squares fit, which acts as a noise filter to remove random fluctuations and provide the real picture of how a stock is performing.
Users are able to get buy and sell signals, and compare trends in intraday, daily, weekly or monthly modes.
These are some of the features in Chebyshev Trend Pro:
* Puts an innovative trending tool in the palm of your hand
* Uses Chebyshev polynomials to create trend lines against Yahoo Finance
* Get daily, weekly, monthly or intraday stock charts
* Noise filter removes random fluctuations to provide the real trends
* Complete absence of lag when compared with moving average trends
* Includes buy and sell signals
* Compare trends with classical MA and Bollinger Bands, Parabolic SAR, MACD, CCI, ADX, Stochastic indicators and more.
* Volume and Chaikin oscillator, Fibonacci retraction
* Save stock symbols in a portfolio by groups
* Ability to adjust trend dates
* Stocks and data sourced from Yahoo Finance website, plus intraday data sourced from Google Finance website if available
* Accessing Yahoo Finance & Google Finance requires a data connection
* App performs best with WiFi connection
* Try Chebyshev's Trend free version for a sneak peak at Chebyshev Trend Pro
To help users organize their investments, Chebyshev Trend Pro allows stock symbols to be saved in groups. The app's flexibility means that users are also able to adjust trend dates to view and make comparisons over time.