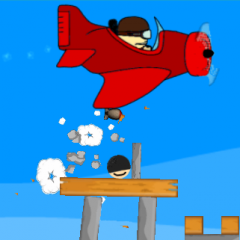 I want to say you a few words about a game for iPhone and iPod called Red Bomber. A main goal of this game is to throw a bombs down on a little roundhead soldiers.


There different types of soldiers. Some of them are realy tough guys and some not at all. They are hiding in a blocks made of wood or stone. You have to destroy all of them.

What you do is choose a bomb, wait for the right moment, and throw it down. You have 3 different types of bombs. You will open new bombs when you will open new world. A game has 3 worlds, each has 18 levels.

On every level you have limited number of bombs, and what is more, you have only one bomb on a begining. To complete the level you have to gather your own ammo by hitting a bubbles with bombs. It adds some difficulty to every level and makes game more interesting, because you have to think where to throw a bomb to rich a better result.

So you have:

- 54 levels
- 3 worlds
- 3 types of bombs for every day situation
- 6 types of enemies
- fun
- more fun

You can buy it here: https://itunes.apple.com/us/app/id576170306 for just $0.99
Also you can try lite version: https://itunes.apple.com/us/app/id580153606

Enjoy!