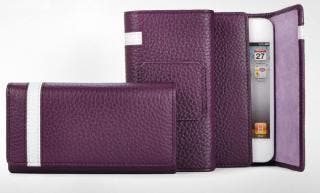 The iPhone 5 is the most innovative of its kind and its physical features differ widely from its predecessors. For starters it's thinner and has a longer body. As such, there is a need to have a stronger, more durable cover to protect it from the inevitable dents and dings all iPhones take. You want to protect your investment here by any means possible. In this case, a leather iPhone 5 case is perhaps the best kind of case to get.
Not only is the leather durable and built to protect what it is covering, it provides a layer of cushioning that is hard to find elsewhere. You go everywhere with your iPhone and it goes through as much abuse as you wallet does, which is why a leather case is the best thing to have.
Dents and scratches are one thing, but if you drop your phone, you need some kind of assurance that your phone won't shatter into pieces. Some hidden advantages of a leather case may actually surprise you.
Shock Absorbing – Leather absorbs shock pretty well before it is distributed to the product. A normal plastic case or back cover is not going to hold shock very well – or at all sending it to the proverbial grave, the trash can. Leather cases are not easily torn, scratched, ripped, or broken when dropped or run through the gamut of a typical day.
Breathable – Some iPhone covers are not breathable. Leather is breathable, which means that it allows air to circulate through the phone, reducing overheating. Contrary to popular belief, leather is not a heat conductor.
Somewhat Waterproof – It happens to all of us. We accidentally get our phones wet by putting it in the washer or spill drinks all over it. Leather can hold water for a limited time, giving you enough time to figure out what to do. Other phone covers don't provide that kind of protection.
A leather iPhone 5 case will last a long time, protecting one of your most important assets today. Leather is also long lasting so you know you are getting a good product.