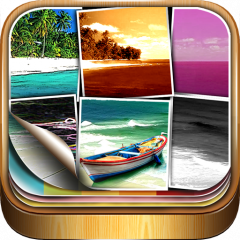 If the world of photography fascinates you then "Wrapcam" is the perfect photo editing app for you.
Stunning photo art can be made with negligible effort given.
It is an app which is packed with innumerable customization features which tempts you to carry on using it for hours. It not only showers the user with a variety of wrap shapes, filters, frames, lights and color effects but also gives the power to combine multiple effects on top of the other to come up with a stunning piece of art. Literally, one can make millions of combinations of effects out of it.
Check out our photo creations in Instagram - http://bit.ly/UM9uM1
Reviews from media stalwarts really help us keep improving the app : -

Good photo editor ★★★★★ by superz83
It is actually more useful than I though it would be. It does a pretty good job of editing photos and adding some neat effects.
Good ★★★★★ by Asihati87
I really like this app. You can create good images thanks to the filters and result in a work of art.
Good for photos ★★★★★ by hjy921021
Really fun to edit your photos on iPad.
perfect photo editor ★★★★★ by keepwei
it is a powerful photo editor. you can blur the photo, or make it sharper. you can combine several photos. you can change color tones of the photo. moreover, you can add the special wrapping effects! so your photo looks like a real one that curls a bit.
a great photo editing app ★★★★★ by pontiacy
a great photo editing app. I'm afraid there are already too many photo editing apps in the app store. but this one is worth buying. it has many effects. and the "wrapping" function makes it unique.
Infor about the app
Find more informations from here : -
Itunes link: - http://bit.ly/Z9qG3i
Website: - http://www.wrapcam.com
Video trailer - http://bit.ly/YzFjbr