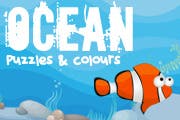 New Children's Free App "Ocean – Coloring Puzzles for Kids" Features Funny Puzzles, Creative Drawings and More
Would you want your kids to enjoy with your Tablet or Smartphone? Download the "Ocean" game! Really simple and intuitive, so much so that younger kids can also use.
Much attention to detail, even in the choice of music, you'll probably find yourself humming the background music ... is really cute!
In addition to the puzzle, you can also color the drawings of the sea animals. Clearly we see that this part of the game was handled very well, the device responds optimally to the touch when the child paints with fingers.
Each puzzle also has wonderful interactive animations, for example, if you touch the crab, this beats the claws, if you touch the bubbles in the background, they rise up with a nice sound effect.
The children will enjoy discovering the animations, playing with the puzzles and coloring the drawings. Very colorful and nice graphics, allows you to entertain your children and why not, you too!