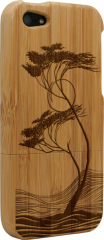 Mississauga, Canada – December 5, 2012 – Nutcase Design Inc. officially launches its web store, www.gonutcase.com, offering cases for iPhone 4, 4S and 5. The cases are available in edgy Brushed Aluminum (choice of 5 colors) and earthy Bamboo. Customers can select from a set of designs to be engraved onto the case, which are all original and created by Nutcase. "The mobile accessories market is a crowded one; what sets us apart from the competition is the refined compositions created by our talented artists," remarked Matthew Siu, Co-Founder.
"To enhance the online shopping experience, we are keeping processing times short and shipping fees low," Siu continued, "we aim to ship our products within 1 to 2 business days , and free shipping to the U.S. and Canada is offered for orders $60 and over. So, order now to ensure your loved one receives an amazing gift this holiday season." Nutcase also ships to destinations worldwide.
Nutcase Design Inc. is headquartered in the Greater Toronto Area, Canada. The company manufactures and sells mobile accessories through their online store, www.gonutcase.com. They can also be reached at their Facebook page.
###
If you would like more information about this topic, or to schedule an interview with Matthew Siu, please e-mail Nutcase Design at pr
gonutcase [dot] com (subject: Press%20release) .