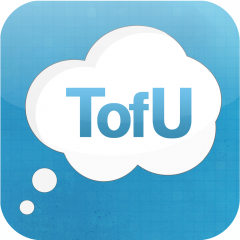 With less than three months until Christmas, it's never too early to get organized for the craziness that is The Holidays. But if the mere idea of Christmas shopping sparks fear and dread, help is at hand. Or rather, help is IN hand. In the form of a new social networking app for the iPhone called "TofU". And even better news is - it's free.
Pronounced like the bean curd but short for "Thinking of U", TofU shares lists of the things you like with the people you love, with the intention of knowing exactly what would be the perfect gift for your nearest and dearest. No guess work, no re-gifting, no returns. It's the ultimate personalized gift guide.
After downloading the app, a TofU user should add their all-time favorite things to their list. Like the things they'd love to eat, drink, buy or do every day for the rest of their life. Kind of like those questionnaires that used to circulate on email to get to know friends better.
Then invite friends and family to join, simply by tapping the "friend" icon in the app. After a user's friends join TofU and fills in their favorites too, they can both see each other's lists and know exactly what the other one loves. Voilà – gift giving just got a whole lot easier.
Someone's own TofU list can be updated whenever their tastes change or whenever they discover a new favorite thing. TofU also allows users to have as many favorites as they want, add photos, and include specifics like preferred color, size, style, flavor etc. And there is an extensive list of categories to make it easy to keep track of what friends love to eat, drink, wear, play, read, listen to, wish for, and more. Which means users are equipped with perfect gift ideas for not just Christmas or Hannukah, but any occasion – good luck, congratulations, I'm sorry, or just "thinking of u".
TofU has full Facebook integration, so users can share their favorite things on their Facebook timeline and invite friends to join either via Facebook, email, or phone contact list. But users can also be selective about who they share their favorites with, since TofU is all about friends, not followers.
The best part of TofU is, users have a list of all their friends' favorite things in the palm of their hand, exactly when they need it most. Those tedious and unproductive trips to the mall will be a thing of the past.
The TofU iPhone app is free and available on iTunes. For more information visit the TofU website tofuapp.com
END.
MEDIA CONTACT: Kristen Dinsdale +61 416 157 260 or email kristen
tofuapp [dot] com
High-res images available.
About TofU: The Thinking of U (TofU) app was created and developed in Australia, from a desire to make gift giving both easier and more meaningful. Two weeks after its launch in August 2012, TofU was featured on the Australian App Store's "What's Hot" list.