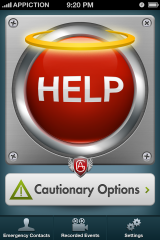 Have you ever thought about what you would do if a stranger came after you while you were walking to your car or a class alone? What about if you are jogging alone? The myGuardianAngel iphone app is taking personal security to a whole new level.
The concept of the myGuardianAngel App is to get a person the most help possible with the push of ONE button. The app allows a person, with the push of ONE button, to send an emergency alert to several contacts, capture video evidence, be tracked by GPS and through streaming audio from the phone update ALL emergency contacts, at the same time, as to exactly what the situation is and exactly what type of help is needed.
How many of the countless news stories about someone disappearing without a trace could have ended differently if the victim could have, in a few seconds time, pushed the "Help" button on this app?
The myGuardianAngel iphone app also gives a person the ability to call 911 with the push of one button while simultaneously sending a message to each emergency contact stating that 911 was just called along with the location of the event. This is a huge time saver in an emergency.
No longer does a person have to wait for something bad to happen before they call for help. At the first sign of danger the "HELP" button can be pushed. Should it be a false alarm simply saying "everything is ok" into the phone lets ALL emergency contacts know that everything is ok. If something bad happens then there are people who care, with the app user's location, ready to provide the help that is needed. All of this technology is available with the push of one button and it only costs 99 cents.
The myGuardianAngel Appis available in the iTunes App Store. A short video about the app can be viewed on the myGuardianAngel YouTubepage.
DS Apps LLC is a company dedicated to personal safety.
http://www.myguardianangelapp.com