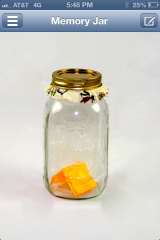 When it comes to having children, memorable events can happen on a weekly, daily or even hourly basis. Those big events, like the birth of a child, the death of a loved one or maybe that family vacation to the Grand Canyon are easy to remember. But, what about those little events that happen throughout the year, slipping out of mind forever? How about a child losing their first tooth or attending their first ball game? Maybe feeling a baby move for the first in an expectant mother's belly or a child taking their first step? These are all wonderful moments that would be great to share with friends and family members, but all too often get forgotten about, until now! Jebs Apps, LLC is excited to announce the release of Memory Jar (for iPhone and iPad) to capture all these wonderful memories.
Single or married, a mom or mom-to-be, Memory Jar is the perfect app to track all the big and small memories in any family! Memory Jar works by providing an easy way to attach a picture and simply give it a title, brief description and any special keywords to help recall it in the future. Now, capture the memory when Johnny hits his first home run or Emma decides to pick a bouquet from your flower bed. All these wonderful memories are stored within the Memory Jar application and can easily be searched or read at any time. When a special holiday or anniversary arrives, open the app and use the built-in slideshow feature to watch the entire year-in-review or create a custom slideshow with memories containing certain keywords or dates, it's THAT easy!
"After hanging my youngest son's school work on the refrigerator for a week, I take a picture of him holding it and added it to my Memory Jar. This way, we can take it down from the fridge and still have a memory of it for years to come." said Lynn Dilloo, mother of four.
This app works great for all families! Moms to be can track each milestone of their pregnancy, such as the date they found out they were expecting, the first movement, all the way to the actual birth! Once the child is born, keep using the app to track the child's first smile, steps and even the first day of school.
What a wonderful way to spend an evening with Grandma and Grandpa, rekindling all those beautiful memories by using the built in slideshow feature and showing them the pictures with background music. So, go ahead, remember all the big events and use Memory Jar to take care of the small ones!
For more information on Memory Jar, find it on the App Store at https://itunes.apple.com/us/app/memory-jar/id555234225?ls=1&mt=8.