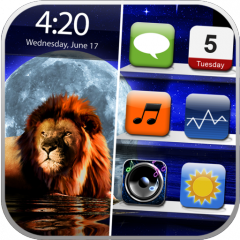 http://www.facebook.com/iThemeApp
More than 300 themes have been adjusted to make perfect use of the awesome iPhone 5 screen - giving users a chance to transform their interface in a unique and outstanding way.
Body:
iTheme 3.5 features a wide variety of themes for the iPhone or iPod Touch - more than 300 themes are included - each consisting of a matching Lock and Home Screen. Combining these two users can redesign their iPhone interface in a unique and outstanding way - giving their device a green, metallic, glowing or 3D look - to name but a few. With the new update iTheme becomes one of the first and most popular wallpaper apps to fully support the iPhone 5. Sorted into 20 categories like 'Digital Art', 'Music', 'Mystic and Fantasy' or 'Signs and Symbols' there are designs to everyone's taste.
With iTheme 3.5.2 users can also add multiple layers, change colors and add special effects to customize each theme suite their taste! iTheme is fun and easy. Users can change their theme as often as they like because Ayogo adds more great themes every week.
"We love the new iPhone 5 and wanted to provide outstanding and stunning artwork as soon as possible" said Kai Banholzer, CEO of Ayogo. "With this new version of iTheme we are happy that we are one of the few to provide full iPhone 5 support and continue to give a great experience to the many users our app has."
iTheme 3.5 is available now on the App Store and iTunes
https://itunes.apple.com/us/app/itheme-themes-for-iphone-ipod/id419135449?mt=8
iTheme 3.5 features:
- Full support for the iPhone 5 - all themes available in 640x1136 pixels retina resolution.
- A new way to browse themes by category and in the new thumbnail overview with great high