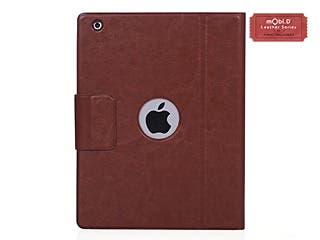 Introducing iPad 2/3 Bluetooth Keyboard Leather Case with Stand

Mobi.D did a nice job of integrating as much of the look and feel as possible, while providing maximum protection for your New iPad 2/3. On the design front,this stylish leather portfolio has the best of both worlds - a stylish leather case stand with the integrated detachable keyboard.

However, there is a major difference that sets the iPad Keyboard Leather Case apart from any other keyboard case available in the market - a full size aluminum wireless keyboard and an integrated stand (all in one), so you can type with "freedom".

As for the iPad Keyboard Leather Case, one can say that it is the best of breed when it comes to versatility, and is one of the best all-around soft leather case out there. If you are looking for full device protection that comes with maximum flexibility and professional looks, then meet your new iPad Keyboard Leather Case.

The iPad Keyboard Leather Case is ON SALE now with FREE worldwide shipping at:
http://www.fancygearbox.com/products/products_tablet_case/products_ipad_keyboard_case/products_ipad_keyboard_case.html