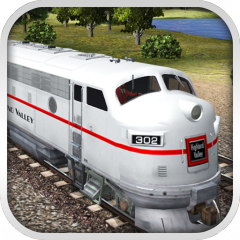 Brisbane, Australia, Feb 7, 2013
Veteran game developers and publishers N3V Games today released a blog article about how they increased their app sales by up to 10 times with a simple change that took less than an hour to implement.
The article, titled "The Story of 3,249 VIPs (Very Important Pixels)" was revealed on the Trainz discussion forum homepage at: http://info.n3vgames.com/lt.php?c=94&m=100&nl=5&s=9f15506a82f8926720464fc95b7fae12&lid=1336&l=-http--forums.auran.com/trainz/content.php. It details how changing the 57 x 57 pixel icon (that's 3,249 pixels in total) on their app "Trainz Driver" increased sales on the Amazon App Store by 10-fold, and also showed a 3-fold increase on Google Play and iTunes.
The article highlights the initial process of selecting an icon, and then how several months later a chance discovery led to an icon change and dramatic results for their Trainz Driver app.
Even on iTunes, where the app was ranked regularly in the Top 10-20 Simulation products, the icon change produced significant increase in sales, without even changing the price.
The article, which includes sales graphs from the three main app stores, is sure to provoke interesting discussion about the fickle nature of app store product selection and rankings.