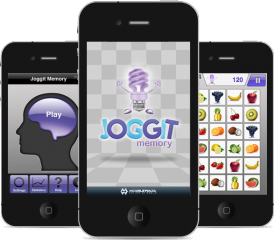 Kick the New Year off with a resolution you can keep! Get the Joggit Memory app to exercise your brain for 10-minutes a day. Joggit Memory provides a challenging and fun way to stimulate your brain with a unique memory recall experience in every session you play. Once you start playing, it is hard to stop. It's best to use this app frequently to exercise your brain like gym equipment is used to exercise your body. At home or on the go, Joggit Memory is a perfect complement to reading, word search and crossword puzzles.
Features:
• Universal application
• Highest quality UI/UX design
• 3 play modes: Concentration, Flash, Focus
• 3 play levels: Easy, Moderate, Difficult
• 12 categories: Colors, Creatures, Emoticons, Fruits, Letters, Numbers, Shapes, Signs, Sports, Symbols, Weather, My Photos
• My Photos category allows you to import 20 of your favorite photos
• 387 visually stimulating images familiar to everyone in the world
• Adjust app settings to your individual preferences or reset to app default settings
• Comprehensive statistics of results over a day, week, month, year and more allowing you to track your progress
• Capability to reset all statistics back to zero
• Help area with information on how to play all app play modes
Joggit Memory was developed to promote Alzheimer's disease awareness and encourage brain health by staying mentally active. Mentally stimulating activities strengthen brain cells and the connections between them, and may even create new nerve cells.
Mobile Waza will make quarterly donations to the Alzheimer's Association in the amount of 25 percent of the net proceeds from Joggit Memory. The donations will help fight Alzheimer's disease through vital research and essential support programs and services.
Thank you for your interest in Joggit Memory. Enjoy!