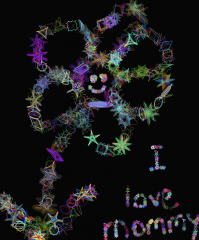 Making circular patterns on paper by pushing a pen through a hole in a disc and rotating it inside another disc can be a hours of fun.
But what if the discs didn't have to be round? What if they could be square?
What if they could be heart shaped?
What if the pen could change colour as you draw?
What if it could even change size as you draw?
Oh...
What if you could draw with a paintbrush that used tiny versions of these spiroids as it's paint!
You can!
Spiroids can be drawn inside circles, ellipses, rectangles, triangles and even inside heart shapes.
The pen can be a pencil just a single pixel wide, or it can be a brush 20 times wider.
And it can change colors as you draw.
In Gyroid mode you can draw with a brush that draws small spiroids as you paint.
They're beautiful.
And of course you can print them and save them to your photo album. (And from there you can even email or message them to you friends).