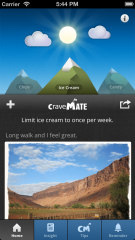 CraveMate - A fun and creative smartphone app designed to help you end hardwired junk food cravings and unhealthy eating habits.
Press Release – Hollis, New Hampshire – January 25, 2013— CraveMate, a new iPhone application now available on the app store, has been developed to help you gain control of junk food cravings and unhealthy eating habits.
Inspired by the growing body of knowledge linking powerful and instinctive food cravings to our primitive brain, CraveMate provides an easy way to overcome food cravings, which if left unchecked, can lead to unhealthy weight gain, obesity and poor health.
According to CEO Tom DiGiacinto, "we all know that eating junk and fast food is unhealthy, but we still do it. We developed CraveMate to empower people to take control of the craving thought processes before they overtake them."
The app leverages the 24/7 availability of the iPhone and concept of capturing the moment, in order to conquer the craving. "CraveMate helps you interrupt and distract the craving before it dominates your thinking," DiGiacinto adds.
It does this with fun and engaging activities, like setting crave goals, taking crave pictures or videos, or writing a text, tweet, email or Facebook post that captures how you conquered your craving. CraveMate features reminders and alarms that alert users to their typical crave times so they can prepare and fend off a craving.
"With practice and diligence, users can conquer cravings, make positive lifestyle changes and choose healthy eating," DiGiacinto adds.
Instead of automatically reaching for a bag of chips or large soda, CraveMate offers the motivated individual an alternative to giving in to the craving. By setting and managing a craving goal and using creativity to illustrate feeling, users can immediately tap online support via texts, email, Tweets or Facebook posts. The app also includes information about where cravings come from and why they are so hard to resist.
"We're excited to offer a new and unique approach to managing junk food cravings. It is our hope that CraveMate will give people the knowledge, strength and resilience to take control of what they eat, as they work to improve their health, wellness and happiness," DiGiacinto concludes.
CraveMate is available for the iPhone App Store and can be downloaded for $0.99.
To learn more visit www.cravemate.com.
About Primitive Response Technology LLC (PRT
Primitive Response Technology LLC (PRT), develops innovative mobile solutions to help people improve their lives by replacing hardwired primitive brain thinking with rational, new brain thoughts. The Company offers proprietary applications and content designed to help invigorate lifestyles and improve health and well-being.
###
For more information contact:
Lorraine Bauman, lkaybauman
yahoo [dot] com603-494-5614 or
Tom DiGiancinto, tomd04
gmail [dot] com603-494-1470
Download CraveMate at the App Store: https://itunes.apple.com/us/app/cravemate-capture-moment-conquer/id593572366?mt=8
• Visit our website –www.cravemate.com
• Like us on Facebook –https://www.facebook.com/cravemate
• Follow us on Twitter. – http://twitter.com/@cravemate