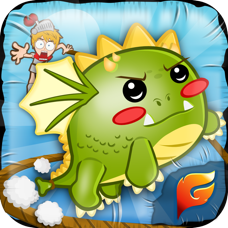 BANGKOK, Thailand ON - November, 2012 - Fusioniz announced that their first action adventure game, Balloon Dragon, is now Free and exclusively available for iPhone and iPad. Balloon Dragon is a must have game for the gamer who's love speed and the adventure in the mystery land.
The storyline of Balloon Dragon is about poor Adam, a former prince who ran from the palace to escape the war. During he meet Lucia at Simon's store, Lucia was kidnapped by Dragula and the Darklord. At this moment, he must become a brave man and fly with Balgon which is Simon's dragon to start an adventure in the mystery land to rescue Lucia, and now he can't escape again. Balloon Dragon is a enjoyable game for everyone and their can play it to kill the time when they are free.
Hold on to Balgon and let's adventure in the mystery kingdom. In this game, The player should take Adam fly with Balgon as far as they can and they needs to control the Balgon to avoid mysterious obstacles. Player can enjoy collecting coins to buy more awesome equipment, upgrade Balgon and more secret items from Simon's Store. The player will encounter a lot of exciting thing (e.g. the secret abilities in the magic potion and awesome outfits.) In Balloon Dragon, The unique feature is day and night mode by real time, it will automatic switch to day or night mode. When the player fly for a while, their will see the animal on the ground, they should feed Balgon with an animal to transform it into a more powerful dragon. When player get the best score, they can share it to their friends on Facebook.
Balloon Dragon is now Free (Was $0.99) and available world-wide from Apple's App Store for iPhone and iPad. Facebook fan page: www.facebook.com/fusioniz
Balloon Dragon
Category: Game
Released: Sep 15, 2012
Version: 1.0.0
Size: 42.9 MB
Seller: Ekkachai Charoenpatanamongkol
Support: iPhone, iPod touch, and iPad Requires iOS 4.3 or later.
© 2012 FUSIONIZ
iTunes Link: http://itunes.apple.com/us/app/balloon-dragon/id540953366?mt=8
Balloon Dragon Officially Trailer: http://www.youtube.com/watch?v=vnJGctAjN_g
Keep in touch
Fusioniz Website: http://www.fusioniz.com
Facebook Fanpage: http://www.facebook.com/fusioniz
Twitter: http://www.twitter.com/iappcreation
Please visit company website www.fusioniz.com for more information, including the Character info, screenshots, tutorials, company information and others. Fusioniz, an independent game development studio based in Bangkok, Thailand, was formed in 2012 by Mr. Ekkachai and his friends for the purpose of delivering happiness to this earth.
------------------------------------------------------------------------------------------------------------------------
If you would like further information of Balloon Dragon, Fusioniz or you would like to schedule an interview, please contact: Mr. Pratchaya V., Marketing Director, i-App Creation Co., Ltd.
Email: support
iappcreation [dot] com
Phone: +662 892 8759