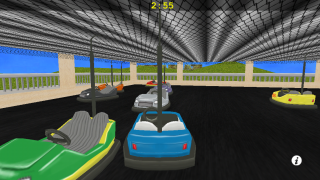 Enjoy the thrill of bumper cars on your iPhone or iPad. Lean the device to speed up, slow down, backup, and steer.
Four different types of gameplay:
- normal rink with barrier down the middle,
- open rink without center barrier,
- sumo-style (knock opponents out of playing area),
- soccer (requires online connection via Apple Game Center).
Play against AI cars or go head-to-head online against up to three other friends or online opponents through Apple's Game Center.
Posts best times and achievements to the Apple Game Center. Optionally shares your accomplishments with Facebook, Twitter, Weibo, email, or instant messaging (iOS 6+).
Universal App - supports iPhone, iPod Touch 4, and iPad, including standard, Retina, and iPhone 5 displays.