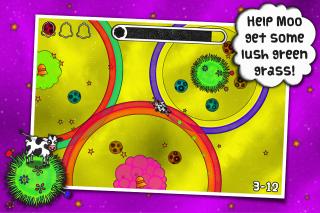 December 6, 2012 - Düsseldorf, Germany- Today Volker Stuckmann releases Moo Maverick - a gravity-based puzzler for iPhone, iPad, iPod Touch and Android devices - and marks the occasion by opening a cold bottle of milk for his protagonist. Because where other cows just stand around and ruminate, Moo has a mission: Abducted by aliens and abandoned in the depths of the universe, she flies through space, curves around dangerous obstacles and fights gravity - always on the hunt for some lush green grass!
Players join Moo in her quest and help her to bounce off rubber planets, ride on planetary rings and survive the deadly dangers of deep space in 3 galaxies and over 70 levels! With just one finger, players fling Moo into space and create black holes to correct the daredevil cow's course.The right atmosphere is created with beautiful watercolor graphics inspired by Antoine de Saint-Exupéry's The Little Prince.
"This is an exciting time for game developers: It has never been this easy for people with good ideas and passion to create a game on their own, down to the last detail, and make it accessible to the whole world.", says Stuckmann. That's why he doesn't just think of his company foundation as a professional project, but also as a personal adventure: "My previous job as a game designer on The Settlers 7 offered me many opportunities and working in a great team was a lot of fun. But taking care of everything yourself for a change is a whole new challenge."
"Growing up in the Lower Rhine region I practically saw cows every day. This left such a big impression on me that I really should have become a farmer. Unfortunately, my landlord won't allow cows in my apartment, so I did the next best thing: I made a game about cows!"
For a press kit with screenshots, a trailer and more information, visit http://www.volkerstuckmann.com/press/moo-maverick. Free review copies of Moo Maverick are also available upon request.
Volker Stuckmann (28) is a game designer from Düsseldorf, Germany. He develops innovative games for Smartphones and Tablet PCs by combining original game mechanics with beautiful graphics and intuitive controls. Ever since he started work on Moo Maverick, he can't eat cows anymore.
Contact Information:
Volker Stuckmann
Dorotheenstr. 3
40235 Düsseldorf
Telephone: +49 (0)163 1624261
Website: www.volkerstuckmann.com