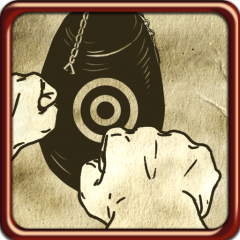 Boxthebag brings Kinect style gaming on the IOS !
We all have grown up watching the Rocky moveis. We all have atleast once in our lifetime thought to be present inside that boxing ring and smash our inner aggresion to the opponent. What if this can be true and that too within the cozy comforts of your home? What is you get the chance to be a boxer without getting into a boxing club?We, TechBLA, a technoogy startup brings Kinect style gaming on the IOS with Boxthebag fitness app.
Boxthebag is our first gesture based boxing fitness workout app launched in the appstore in it's universal avatar. Our main objective is very simple. We ask you to box in front of the device as hard as you can. Knockout your stress by throwing your fist as fast and accurate you can to the device. The front camera of the device catches the data information of your hand gesture movements and convert them into an algorithm. In simple words, the user gets the real life simulation of boxing inside an iphone or ipad.
The trick to accurate boxing is to place the device in a brightly lit room. Another unique feature of this app is that it allows users to check their boxing moves inside a small tv placed in the application. Boxthebag truely states to fight for what you truely believe in and keep on fighting untill you make them true.
We are glad that the initial responses from various sports and fitness lovers and review sites are quite positive and inspiring. Company founder, Pranav Agarwal is excited to bring new upgrades to boxthebag very soon.
Media Response
- "Boxthebag is brilliant ! 4/5" --- 148apps
- "Who knew playing games on your iPad could be such good exercise?" – Blog http://www.RayWenderlich.com
- "Go from glass joe to joe frazier." --- pocketgamer
- "Boxthebag expands the notion of what the iPad can do by a mile." ---Todd Bernhard,editor, iphonelife.
- Appstore rankings - #1Macedonia,#7Uruguay,#12Kazakhastan,#15Germany,#37isreal,#46Greece,#51Finland,#71Turkey #75UK,#80HongKong,#84India,#118USA
App info -
- Available both in iPhone and iPad
- Website