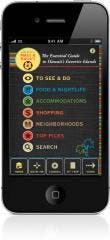 Peter Pauper Press Interactive's new Maui & Kaua'i Hawaii Travel Guide app is available FREE, right in time for holiday travel!
Acclaimed by Booklist and The Travel Writer's Life (www.thetravelwriterslife.com) for its savvy guidance, Peter Pauper Press's Little Black Book of Maui and Kaua'i has been reborn into the world of mobile media. The just-released Maui & Kaua'i Hawaii Travel Guide includes everything travelers love about the original series, made faster and smarter for the iPhone. First-time visitors will find the perfect introduction to Hawaii, and for those already familiar with the Valley Isle and the Garden Isle, we've pointed out plenty of lesser-known wonders on each island. Travelers can peruse over 430 listings, pull up category-specific directories of nearby venues, navigate via high-quality offline maps, schedule a trip itinerary, post to social media, and much more.
Key features include:
OFFLINE MAPS. Need to navigate from a secluded beach, winding mountain road, or similarly signal-free zone? We've included high-res, interactive stored maps that travelers can access at any time. There's also a fully searchable online map. Better still are the helpful directions to sites that may be difficult to find via GPS or conventional mapping app.
NEAR ME. Tap the Near Me button to pull up a list of the closest recommended beaches, restaurants, activities, shops, hotels, and more. You can also sort any tailored list of venues (parks and nature preserves, for example, or Asian restaurants) by distance from you. Whether you seek the nearest purveyor of shave ice or the nearest prime snorkel spot, we'll steer you in the right direction.
STRAIGHT TALK. Travel author Joanne Miller has turned her keen eye to the islands, and selected the best of the best for inclusion in our Maui and Kaua'i Travel Guide. We've included a brief description and photo of each site, so you know what to expect, and kept each review direct, interesting, and fun.
FAVORITES. Our app makes planning a snap. Tap the heart-shaped button on any venue page to add it to your Favorites. You can then pull up an easy-access list of your favorite places, and tailor it by category. Our newest optional feature notifies you when you're near one of your Favorites.
TRIP PLANNING. Avoid missing out on your must-see list by planning your adventures in advance. Even if scheduling's not your strong suit, the My Trip feature will help you organize your travel wishlist. Hit the Add to My Trip button on the pages of the venues you don't want to miss, select the timing of your visit, et voilà—instant itinerary.
SOCIALIZE. Tweet your photos of Haleakala sunrise, check in on Facebook from the top of a sea cliff, and generally let the world know you're having a grand time. We've incorporated easy-access social media buttons into every listing. To make documenting your escapades effortless, there are even in-app camera and photo sharing functions.
ISLAND HOPPING. From Kaua'i's majestic Na Pali Coast to Lana'i's petroglyphs to Moloka'i's famous Kalaupapa National Park, there are plenty of reasons not to limit your time in Hawaii to one island. We make it easier with inter-island trip advice, as well as guidance for getting around once there. We've recommended car rental companies, taxi companies, and even a few places that will rent you a motorcycle or Segway, if that's your speed.
TIPS FOR TRAVELERS. Pick up a few key hints for making your way in the islands. We've included cheat sheets on Hawaiian vocabulary, dining etiquette, choosing a hotel (or B&B, or hostel, or campground), and other essential subjects.
TOP PICKS. Overwhelmed by a sea of options? Consult our shortlist of must-visit locales in Maui nui (greater Maui) and Kaua'i. The area's most famous sites grace this section, but also a few less-obvious picks.
SEASONAL EVENTS. Maui and Kaua'i's charms change with the seasons—whales and peak surfing in the winter, Lei Day in the spring, festivals all summer and fall. Check our list, and time your trip so as not to miss the transient occurrence that most strikes your fancy.
Other Peter Pauper Press Interactive Travel Guides to follow include:
New York (Out now! https://itunes.apple.com/us/app/new-york-travel-guide-peter/id531863067?mt=8)
Paris
Washington, DC
Chicago
San Francisco
London
Boston
Rome
Florence & Tuscany
***
About Peter Pauper Press, Inc.
Founded in 1928, family-owned and operated Peter Pauper Press, Inc., is beginning its eighth decade as a leading publisher of digital and print travel guides, cookbooks, e-books, humor books, quotation collections, children's activity books, organizers, designer journals, and stationery. Peter Pauper Press publishes approximately 130 books and ancillary products per year.
About Shy Bear Apps
Shy Bear Consulting, LLC, is a San Francisco-based mobile app developer dedicated to helping clients utilize the power of mobile technology and the Web to revolutionize marketing and sales platforms. They specialize in developing iPhone Apps, iPad Apps, and Android Apps that captivate users and push the envelope of mobile device functionality.