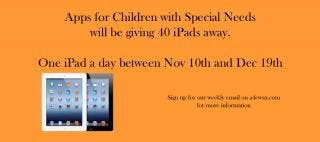 A4cwsn is giving away 40 iPads over 40 days.
Starting on November 10 through Dec 19 a4cwsn will give 40 iPads away around the world, this will bring us very close to 200 iPads given away in less than 2 years.
10 iPads will go to Teachers
10 iPads to Therapists
10 iPads to parents of children with Special Needs
10 iPads to the general public
All we ask in reurn is your support of the developers who hep make the apps that in return help our children.
Simply sign up for our weekly email about A4cwsn and App developers / promotions to be entered for a chance at one of the 40 iPads.
You can click HERE to sign up.