Ok, you've decided it's time to get in better shape. You're going to get healthy. Now what? One trick that may help is to keep records of your training sessions and calorie intake to make sure you stay on track. By doing this, you'll be able to tell what works for you and what doesn't. Using your iPhone to measure and record your efforts can make exercise and losing weight almost fun.
"You look great!"
That's one of the nicest things someone can say to you. A close second is, "You've lost some weight." The first thing you need to do is make the decision to do something about your fitness. But it's easier than you think, and remember that "small steps lead to large results."
Walking, jogging, bicycling; whichever way you decide to go, your iPhone and these apps can help you set your goals, track your progress and stay on the program. They can help you get fit and stay fit!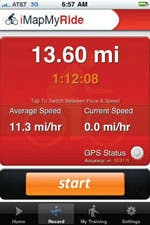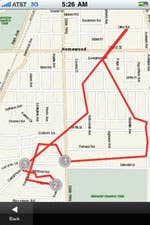 I rode my bicycle (set up on a trainer) all winter long with one goal in mind: I wanted to ride Lake Shore Drive along Chicago's lakefront on Memorial Day weekend. On one Sunday morning each year, bicycles own the road. We're allowed to "Bike the Drive," rattling our way through cracks and potholes that cars hardly notice.
It costs around $50 to gain access to "LSD" as the locals call the Drive, with the money going toward the advancement of self-propelled transportation in the city. You're given a T-shirt and race numbers that you place on your helmet and chest. The numbers—and the helmets—are required accessories!
To keep track of my training, I signed up for a membership in MapMyRide.com, a social networking site for athletic endeavors. You can get a free membership or pay for extra benefits, such as discounts and customized maps.
One of the attractions of MapMyRide.com is the iMapMyRide app (free, + version $4.99; imapmy.com), which you can download from the iTunes App Store. This app uses the iPhone's GPS capabilities to create a map that tracks your progress on a route (Fig. 1). Be patient when firing up the app; it takes a minute or two for the GPS to lock in. Once you get the green light, select your form of training: riding a bike, running, or walking. Where you carry your iPhone is important.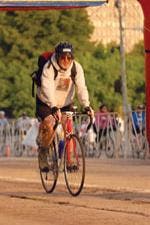 Your goal is to ensure that the GPS is operating with minimal interference which can be caused by having your phone in an inside pocket or a backpack. Tip: Use the outside pocket of a bicycle jersey (positioned on the rider's back) or suspend it on a belt.
When you're ready, start walking (or riding, or running...)! When you're finished with your activity, click the Unlock icon and then save your training session. Once saved, you can review it and see the distance you've traveled as well as the speed and the time it took (Fig. 2). If you've signed up for iMapMyRide, you can upload the training session to your online training record and review your progress from any computer connected to the Internet.
For my "Bike the Drive" adventure, I started the app in Chicago's South Side (Barack Obama's old neighborhood) and turned it off when I got to Grant Park. The ride had a few bumps along the route caused by huge cracks in the road, but I stayed upright. When I dismounted, the map showed a straight shot from south to north and measured off the miles (Figs. 1 & 2). In my own neighborhood, I prefer a more circuitous route (Figs. 3 & 4). The map gets interesting if you get onto some winding roads. And, of course, if you get lost you can just whip out the iPhone, access the map and reverse your route.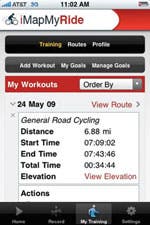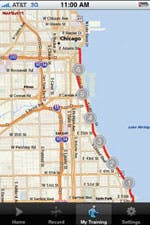 I use iMapMyRide for walking as well. Before I begin my walk, I select the music I want to listen to and start it playing. (The iPod function of the iPhone can run in the background.) Then I launch iMapMyRide, go to its Settings screen, and select "Walk" for my workout activity. When the green light appears indicating that the GPS has located my position, I'm ready to go. Again, to avoid GPS interference, I don't carry my iPhone in my pocket. Instead, I clip it to the belt holding my water bottle.
New to the iPhone 3.0 software is a feature that changes songs when you shake the device. To avoid accidentally changing songs, I deactivate it when I'm walking or jogging by pressing the silver sleep/wake button on the top of the iPhone. Also, I'm careful to create a playlist with songs I actually want to hear so that I don't have to manually skip songs. (Skipping a song interrupts iMapMyRide and plays havoc with the workout map it generates.)
Exercise is only one part of improving your fitness. You also have to eat healthier meals and place reasonable limits on the amount of food you eat. To help with this, I used Calorie Tracker ($2.99; livestrong.com), an iPhone app that helps you track what you eat and the calories, fat, and cholesterol you consume (Figs. 5, 6 & 7).
Calorie Tracker is a companion tool for members of the LiveStrong.com Web site, a joint partnership between Lance Armstrong and Demand Media. You need to register with the site (free) in order to begin tracking your caloric consumption. You can track your daily calories and activities through the app and sync them with your account on the Web site.
Calorie Tracker has one of the largest databases of food and restaurant items available. As you begin to enter a food, it will present you with choices to make entry easier. For example, if you enter "Grape Nuts" it will present you with a long list of quantities and varieties from which to choose. For example, further down the exhaustive list, you'll find Grape Nuts Flakes, Grape Nuts O's, Grape Nuts Trail Mix Crunch, something called Grapenut from Scotsburn, or Mom's Grape Nut Patties.
The app keeps the foods you've posted in the past available for the next time you have that meal. It also helps you determine how many calories are used in various physical activities. For example, golf works off 4 calories a minute when you're pounding balls at the driving range and 8 calories a minute when you're play a round, walking the course and carrying your clubs. You can burn up nearly 2200 calories over a 4.5 hour round!
Your Daily Calorie Goal and Calories Remaining is listed on your iPhone based on your personal statistics, which can only be entered if you register with the site. A progress bar gives you a graphical look at how many calories you have left in your daily allowance. The LiveStrong.com site has a motivational "Dares" section that members can use to help them quit smoking, lose weight, exercise regularly, etc. It's a place where you can publish your goals and get support from other members. You may want to dare yourself to lose 30 pounds, work yourself up to 100 pushups, or even smile more while spending time with your family. You have to register for the site, but it doesn't cost you a cent.
Finally, the LiveStrong Loops section lets you map out your running, walking, or riding routes, and share them with other members. This function is only available on the Web site, not through the iPhone app.