Mark Dajani is Senior Vice President of Global Information Systems for Kraft Foods, the largest food company in North America and second largest in the world. When faced with requests to allow employees access to enterprise systems from their iPhones, he saw two opportunities: to provide better internal communications and to offer a new way to reach out to customers.
Internal support for the iPhone
Kraft supports the iPhone in two ways. First, it provides pre-configured iPhones to specific groups within the company. Second, it maintains a Web page that supports individual employees who have purchased their own iPhones. Both solutions allow employees to access Kraft's Exchange servers as well as other important company information. The CEO and other executives at Kraft can create audio messages (a.k.a. "Kraft Casts") that employees can listen to on the iPhone and keep current on the latest corporate strategies and branding initiatives.
According to Dave Diedrich, Vice President of Information Systems, the iPhone, "opens our employees' eyes to what is possible in their jobs…" and provides a "tremendous opportunity for us to increase productivity by removing the barriers of location…With iPhone, employees can be at home, on the road, with a customer, and still provide the services they need to make Kraft successful."
By listening to requests from some of the 100,000 worldwide employees of Kraft Foods, and by looking at the new features available in iPhone 2.0, last year Dajani concluded that the iPhone was truly "enterprise ready. The e-mail, calendar, contacts, and security components (that) were critical for Kraft's wide-scale deployment" existed. Kraft found an innovative and potentially rewarding place for the iPhone in the enterprise.
Ed Kaczmarek, Kraft's Director of Innovation, New Services saw another opportunity, and a consumer app called iFood Assistant was born. This app was developed internally using the iPhone SDK and Apple Development tools and utilized the best of the iPhone and Kraft expertise. The development of the app was a straightforward and quick process.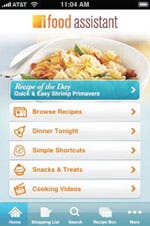 Kaczmarek believes the iPhone "provides the best consumer experience available." It also introduces potential new revenue streams for Kraft through app downloads and has the potential for content partnerships in the future. "iPhone is ready for business," says Kaczmarek. "All the tools are there, plus the security we demand. And the added benefit is that we can develop compelling applications."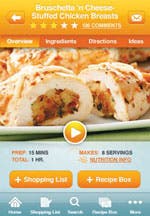 Utilizing its vast expertise and information stored on its consumer Web site (kraftfoods.com), Kraft created an iPhone app with features to help today's busy cooks. With it, you can access over 7,000 simple recipes that can be prepared in 3 easy steps using Kraft products. You can browse the database or search it for a specific recipe. If you're out of ideas, you can check out the current or past recipe of the day.
After selecting a recipe, you are provided with a large full-color photograph, simple three-step directions, the preparation time, the number of servings, and nutritional information. You can also view ideas for dinner suggestions.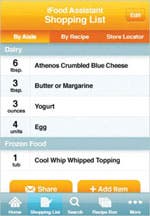 The app also includes a personal "Recipe Box" in which you can save recipes that you love and a "Smart Shopping List." You have to register on kraftfoods.com to use these features; registration is free.
Have your friends asked you for a recipe? Do you need to send a recipe to someone preparing a meal for you? This app also lets you select the recipe and e-mail it to anyone in your contact list.
Once you've selected one or more recipes, you can add them to the app's "Smart Shopping List." This lists the ingredients and amounts needed for the recipes you've selected, and organizes them into categories (dairy, frozen food, etc.) to make shopping easier. Before you go shopping, check the list against the items in your pantry and remove those that you already have on hand.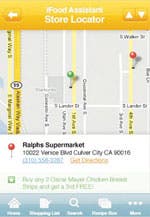 Smart Shopping List includes a "Store Locator" feature that uses the iPhone's GPS capability to display a list of the nearest grocery stores. Select a store from the list and the app displays a map with directions to it.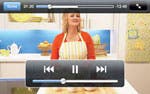 Don't worry if you aren't a master chef. The iFood Assistant app has a series of helpful videos that show you how to prepare recipes. Whether it's preparing appealing appetizers or sweet treats, the videos will help make your meal a delicious success.
Mastering mobility at Kraft
What began as a simple request by employees to use their 
iPhones in the enterprise has evolved into much more. Employees can now access important company information wherever they are and support Kraft's customers whenever the need arises. And in meeting the needs of its customers, iFood Assistant has expanded and enhanced Kraft's brand recognition.
iFood Assistant is an example of a "branded app" which was discussed on page 84 of the last issue. This type of app is developed by a company or organization to provide a service to its customers and extend brand recognition. Many of these apps are offered as free downloads, but Kraft attached a modest 99 cent price tag to iFood Assistant. Based on its high ranking in the App Store, consumers seem to be willing to pay for the utility and convenience the app offers. Kraft recently released version 1.2 of the app and continues to improve and enhance it based on consumer feedback posted on their forums (iFoodAssistant.com/forums).
Kraft's experience has shown that the iPhone can not only enhance a company's internal communications and brand recognition but also generate revenue as well. I'm quite sure that other companies will try to emulate Kraft's iPhone success in the near future.
iFood Assistant