Apple continues to improve its legendary iPhone and iPod touch interface with the release of iTunes 9. This newest version of iTunes tweaks some old favorites, like the Genius feature, and brings us some new favorites, like Home Sharing. This article will help you better understand some of the new features available to iTunes 9.0 users.
Setting up Home Sharing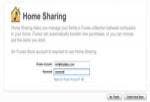 Until the release of iTunes 9, the computer you used to purchase music from the iTunes Store was the computer the music lived on. It was possible to play it on another computer, but you had to jump through some hoops to do so. iTunes 9 includes a feature called Home Sharing that allows you to share music, videos, and other media on up to five authorized computers in your home network. Here's how it works:
Open up iTunes 9 on your computer.
Select "Home Sharing" in the left sidebar. (If it's not visible, click on the "Advanced" menu and select "Turn On Home Share.") This displays the Home Sharing screen.
Enter your iTunes user name and password, and then click "Create Home Share."4.) Repeat these steps for each computer with which you want to share music.5.) To import items from another computer, select the computer from the list below "Shared" in the left sidebar and drag the desired songs from its library to yours.
Using App Genius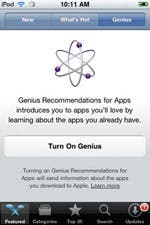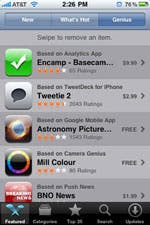 App Genius helps you locate apps that are similar to ones you have already installed on your iPhone or iPod touch. Since there are over 85,000 apps from which to choose, this new feature should help you cut down on the time you spend searching the App Store. Here's how to use App Genius:
1.) From the iPhone or iPod touch, tap the App Store icon.
2.) Tap on the button labeled "Genius" in the upper right corner of the display.
3.) Tap on "Turn On Genius" and you're prompted to fill in your iTunes password. Do so and hit OK. (Note that turning on Genius sends information about the apps you have installed to Apple. If you have a problem with this, don't use Genius.)
4.) You will be asked to agree to Apple's conditions for using Genius. After you have agreed, Genius will take a minute or two to analyze your apps and send you its suggestions. These may include both paid and free apps, depending on the apps you have installed. You can purchase or download these suggestions directly from this screen.
Using the Sync Applications feature
My favorite new feature is Sync Applications. I have over 500 apps in my iTunes library that have been rather difficult to manage until now. This feature makes it easy to install and uninstall apps and move icons around Home pages. To use this feature:
Connect your iPhone or iPod touch to your computer and sync.
Go to the "Applications" tab in iTunes. This tab displays a list of the apps you've purchased on the left side of the screen, and a representation of your Home screen(s) on the right side.
To install an app, drag it from the list on the left to one of the Home screens, or simply check the box next to the app in that list.
To uninstall an app, uncheck the box next to it in the list on the left.
To move app icons, click and hold on them on the Home screen and drag them to the place you want them. You can move them around the screen they are currently on or drag them to another Home screen.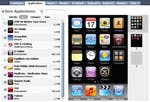 The "Sync Applications" tab has a very helpful search feature located immediately above the purchased apps list. It is particularly useful if you've purchased or downloaded a lot of apps and want to find one without having to scroll through the list. Simply start typing the name of the app for which you are looking, and it will appear after you've entered a few letters of the name.
Auto-Syncing and syncing preferences
A cool feature added to iTunes 9 automatically fills any remaining space on your iPhone or iPod touch with songs.
Connect your iPhone or iPod touch to your computer and sync.
Select your device in the left sidebar.
Click on the "Music" tab. Make sure the "Selected playlists, artists and genres" radio button is clicked, and then check the box labeled "Automatically fill free space with songs."
You can request iTunes to fill this extra space with songs from a specific playlist, highly-rated songs, and so on. Follow the previous instructions then customize your selections by checking the different items you may have in your iTunes music library. You can add genres, songs, artists, videos, etc. This function specifically lets you add more songs and videos without having to make another playlist or add one song at a time. This takes some of the busy work off your plate.
Finally, iTunes has some additional preferences that help you better control what music, podcasts, TV shows, etc., are downloaded to your device. These can be found under the corresponding tabs.
This article discusses a few of the more important new features in iTunes 9 and shows you how to use them. However, there are many more new features that add power to iTunes. For a more complete description of these features, check out "iTunes A-Z" on the Apple Web site (apple.com/itunes/features).