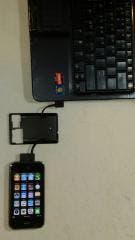 The Charged-Card is a Smartphone accessory that just hit the market has 5 functions and are now IN STOCK:
1) It's an emergency portable charger for any android or iphone.
2) Functions as a data cable for any iphone, android, ipad, or tablet on the market.
3) Charges your iphone, android, ipad, or tablet from any USB port up to 100%.
4) Has a built-in flashlight.
5) Best of all....it fits in your wallet!
BLOWOUT SPECIAL FIVE CARDS FOR $99.95. OR SALE PRICE....$29.95 Each
The Charged-Card works for all iPhone models 3, 3GS, 4, 4S, 5, 5C, & 5S, Android, Windows, and Galaxy smart phones, and all ipad models & Tablets.
The Charged-Card can be purchased on the company website at:
http://www.miraclemembersclub.com/charged-card/pre-sale-pricing-single-u...