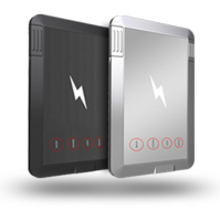 $20 OFF ANY SMART CARD - HURRY SALE ENDS SOON!
Got a little extra room in your wallet? Why not fill that space with THE SMART CARD. See it here: www.thepower.company
The Smart Card packs a wealth of tech tools into a device that's roughly the length and width of a credit card, and measures about 4-5 of them in thickness. Within that slim frame lies a 1,600mAh rechargeable battery enough to charge your iPhone5 105%!
See iPhonelife's review here: http://www.iphonelife.com/blog/97/smart-card-swiss-army-knife-credit-car...
What else can it do? Go here: http://www.thepower.company/functions.html
Compatible with all Android, Windows, iPhone-5 & iPhone-6 models.