By Jim Karpen on Mon, 01/05/2015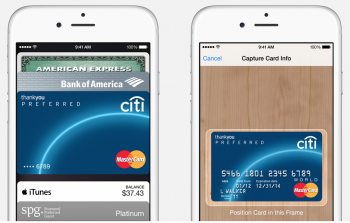 The New York Times has a helpful article that narrates writer Mike Isaac's spending a day using Apple Pay. His experience varied widely, going off without a hitch at some businesses and causing a bit of confusion at others. His best experience was at Whole Foods, where the clerk estimated that three out of every 20 customers use Apple Pay. At Babies "R" Us he never did get it to work after waving his iPhone four times. At some places the clerks were familiar with Apple Pay, at others they just gave him a blank look. Overall, he feels that there's room for improvement among the retailers.
But what really caught my attention in this article were two comments that were posted explaining that the newer "chip-and-PIN" credit card terminals apparently accept Apple Pay by default. One person posting a comment said that these terminals are universal in Europe and that he was able to use Apple Pay a number of times there. He just waved his iPhone and it worked.