By Chris Tallant on Mon, 02/17/2014
In July of 2012, an independent game developer named Dong Nguyen from Vietnam, inspired by what could only be the same angelic muses that visited Poe and Hemingway during their creative slumbers, decided on a whim to create a game consisting of birds smashing into green plumbing.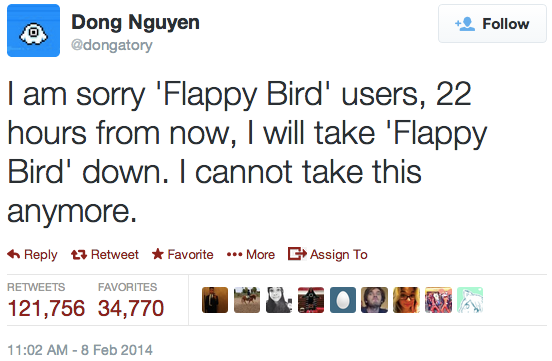 In all seriousness, the brilliant mind behind the indie craze Flappy Bird created a game similar to others he designed within his .GEARS game development team: a repetitive and difficult throwback to 8-bit retro console games popular in Japan. As someone still addicted to Super Hexagon, VVVVV, and Super Meat Boy, I can attest that with Flappy Bird Nguyen hit a home run out of the park.