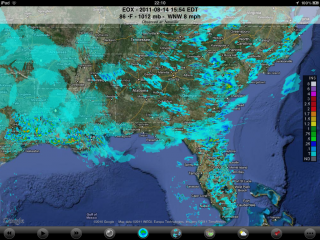 NBZ is very pleased to announce that our top-selling iPhone app gRadar is now available on iPad. All the same great features all optimized for your iPad device.
gRadar is a fast and reliable weather app that provides worldwide radar images on an interactive map (Google Maps). The app allows the early detection of developing precipitation, thunderstorms and high impact weather.
Among its features:
-Worldwide rain radar coverage.
-Up to 12 hours animated playback.
-5-day weather forecast and detailed weather observations (also worldwide).