Utilities
The features you should look for in an instant messaging app
From one simple interface, you can find all of the latest sports news, scores, standings, and more, from 14 different professional and college sports leagues. The Local Tap feature covers sports teams in your area.
Shape Writer Lite: This app adds an alternate text entry method to your device. You use Shape Writer's keyboard to enter text, but instead of tapping on letters, you draw a line on the screen connecting the letters you want to enter. An algorithm inside the app interprets the shape of the line and its location on the screen, and turns it into a word. It is unfortunate that you can only use Shape Writer to enter text into its notepad. However, with OS 3.0 you can cut text from Shape Writer and paste it into other iPhone apps.
Enter the name of your favorite band and the app will create a "radio station" that plays music from the band you selected or from bands that play similar music. And the best part? You never have to listen to a yappy disc jockey again.
One of my favorites, Evernote is available for the iPhone as well as Mac and PC desktops. You can write and save notes on any computer, sync them, and access them anywhere. You can even integrate photos into the notes.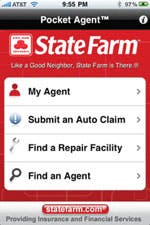 State Farm's free app makes it easy for their auto insurance customers to file a claim directly from their iPhone. No phone call is involved and you don't have to talk to an adjuster. Just open the app, tap on "Submit an Auto Claim," and a checklist will guide you through the process. Once you enter your policy number, the rest of the policy information is entered automatically. All you have to do is fill out the accident details: who was driving, which car, where the accident took place, and what damage occurred. You can even take pictures of the damage and submit them—all from your iPhone.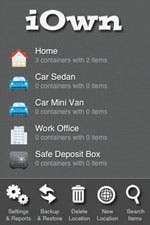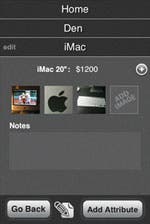 With storms comes property damage, and with property damage come insurance claims. Imagine all your possessions gone and the hassle of making insurance claims on your home, automobiles, and more. When you place a claim, you need to give details about your possessions. iOwn makes that easy and accurate. It lets you store information about all of your possessions, including serial numbers, monetary values, and photos. It allows you to organize this information in a variety of ways. For example, you can list it by room, storage location, items, and more.
These iPhone apps and accessories will help you survive major or minor natural disasters
Owners of the iPhone appreciate its easy-to-use interface, functional Web browser, and the variety of apps available through iTunes, but one family from Carbondale, Illinois has a more important reason to love it. Earlier this year, Christine, Alan, Jordan and Claire Rankin had to endure some very harsh, Midwestern weather, which included high-speed winds, torrential rain, and baseball-sized hail. It damaged their home, and left the Rankin's without power for over a week. I spoke with Christine afterwards, and she shared with me how the iPhone helped them get through this natural disaster.