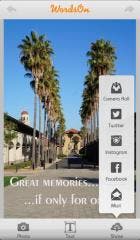 Bits&Coffee has released WordsOn 1.0, a free, universal iOS app that lets users create beautiful and engaging messages by adding words on photos and then sharing on Instagram, Facebook, Twitter, or via Email.
What makes WordsOn special is the attention to detail, great design, and the fun experience it offers when using it. The application features a great collection of fonts, colors, and background templates that enables users to create stylish designs in a matter of seconds.
The texts are fully customizable with a great selection of fonts, a beautiful color palette, and effects like shadow, stroke, or transparency. The text can be easily placed, scaled, or rotated with simple taps, and the rotation algorithm will snap to 90 degrees increments for convenience.