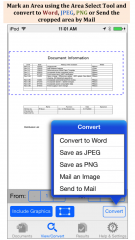 Osaka, Japan, January 15, 2014 - Recosoft Corporation the developers of PDF2Office®, PDF converters for Office and iWork; creators of PDF2ID®, the PDF-to-InDesign conversion plug-in; and ID2Office, the InDesign-to-PowerPoint and InDesign-to-Word technology has shipped PDF to Word and PDF to Text conversion apps for the iPhone.
Adding to the PDF2Office series for iPhone, PDF to Word converts PDFs to Word files; PDF to Text converts PDF files to Text files. PDF to Word and PDF to Text have been tailored for the iPhone with an integrated viewing and conversion interface.
PDF to Word and PDF to Text include support for Dropbox and WIFI transfer mode allowing document exchange between the iPhone and other platforms easily.