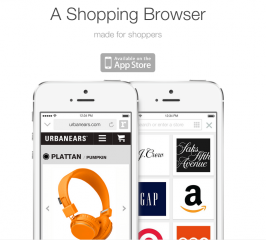 The new Rately Shopping Browser for iPad and iPhone presents an alternative to conventional shopping methods on mobile browsers like Safari or Chrome. Instead of a highly manual tab management and bookmarking process, Rately offers a more dynamic, holistic, and tailored experience for everyday shopping.
Here's how:
Shop faster – Shoppers can move from store to store by tapping on retailer logos – making navigation faster and easier. No typing required.
See a visual history of your items and stores – The Rately browser automatically saves the images, descriptions, and prices from the product pages you visit – creating a visual "recently viewed" across all stores.