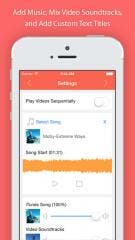 Bits&Coffee has released VideoMix 1.0.1, a new iOS app that empowers users to create beautiful and engaging photo & video collages, enhanced with music and text titles, custom built for sharing on Instagram, Facebook, and YouTube.
VideoMix is designed with great attention to details and is structured as an easy to use four-step wizard. In the first step of the wizard, the user can select a layout template from a multitude of presets.
In the second step of the wizard, photos and videos can be added to the layout, and additional settings like border width, curvature, color, and texture can be set. Photos and videos' placement can be easily changed with drag and drop gestures. Additionally, VideoMix allows the user to choose which segment of each video to play.