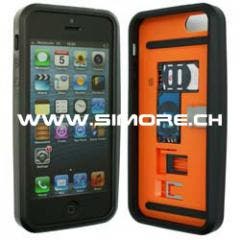 Having two SIM Cards on your iPhone 5 is no longer a dream!
SIMore Innovation: Dual SIM adapter SIM2Be-5 for iPhone 5
You can now use two different numbers on one iPhone 5.
iPhone 5 users can now separate private life and professional life without having to carry two mobile phones.
The Dualsim Adapter SIM2Be-5 is exclusively dedicated to the iPhone 5.
Enjoy now the comfort of your iPhone 5 with two SIM cards.
Thin and lightweight, the Dualsim Case SIM2Be-5 also protects your iPhone 5 from scratches and shocks, offering an additional protection.
The Dualsim Adapter SIM2Be-5 is a Dual SIM adapter which allows you to have two SIM (micro SIM and/or SIM card standard format) in your iPhone 5.