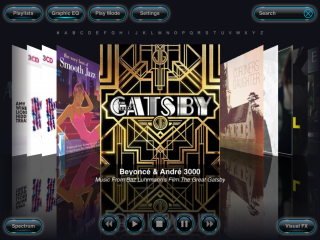 Reflection Music & Radio Player brings a feature packed music & Radio Player to the iPad with Fast and Fluid Cover Flow for browsing your albums for less than $1.00!
Reflection offers 3 Modes: Music Mode (Offline), Music Match (Online) and Radio (Online).
https://itunes.apple.com/us/app/reflection-music-player/id619871620?ls=1...
The Large and Uncluttered Screen can be brought to life with the Visualizations, there are 11 to choose from simply select to Random them.
The Ten Band Graphic Equalizer enables you to set up your sounds exactly as you want or you could use one of the presets such as Rock and Pop. You can also display the Graphic Equalizer Visualizations on screen at the touch of a button