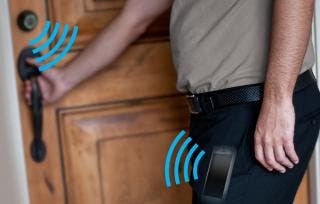 UNIKEY UPDATES TECHNOLOGY POWERING KEVO
Winter Park, FL – March 28, 2014 – UniKey, the industry leader in smart access control technology, announced today that it has released updates to the firmware in the Kevo lock, enabling quicker and easier calibration, performance and speed enhancements, as well as security updates.
With more than 100,000 units shipped, Kevo powered by UniKey remains the only keyless Bluetooth residential door lock on the market. UniKey continues to make its access control solution more convenient than any other traditional lock, while also eliminating the need for keys, PINs and passwords, without compromising design or security.